What is an espalier? This garden feature with French and Italian roots is a stunning example of patience and beauty that's worth growing in your green space.
It's created by training trees or shrubs so that their branches and vines grow in a pattern against a wall, fence, or trellis. Used in grand formal gardens or petite urban spaces, an espalier is a living fence that can save space, add visual interest, create privacy, and cover anything unsightly.
Keep in mind, however, that an espalier is a labor of love, not something that can be installed overnight.
"It will take several years to get the tree or shrub to hold the shape you're looking for—and even when that's accomplished, there's regular pruning to achieve both fruit production and aesthetics," says Susan Brandt, the professional green thumb at Blooming Secrets.
Here's more about espaliers, including which trees, plants, and flowers are best to train and how to tend yours for maximum growth.
A brief history of espaliers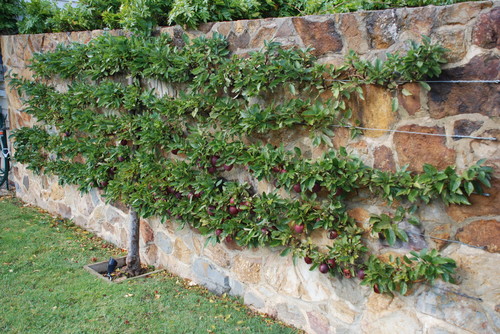 Photo by Andrew Renn 
The French term espalier comes from the Italian word spalliera, or "shoulder," which was also used to refer to the back of a bench, or a wall panel—things you might lean a shoulder against. Similarly, an espalier is supported by or hangs on a wall, trellis, or free-standing frame.
This design was originally used to save space and to help trees produce more fruit. When an espaliered tree leans against a wall, warmth from that surface can better penetrate the branches and trunk, encouraging the fruit to ripen more quickly.
Best trees and shrubs for an espalier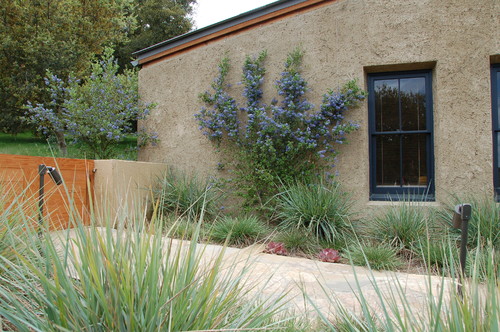 Photo by Joni L. Janecki & Associates, Inc.
Bushes, vines, and fruit and flowering trees can be crafted into an espalier.
"Some of [the] best ones are apple and lemon trees, along with bougainvillea, camellias, and climbers like ivy, roses, and wisteria," says Chris Lambton, master gardener and co-host of HGTV's "Going Yard."
Other choices include pear, fig, orange, and tangerine trees, and as well as stone fruit varieties like peach, plum, and nectarine. As for ornamental trees, look to ginkgo biloba, Japanese maple, linden, scarlet firethorn, and dogwood.
Espalier shapes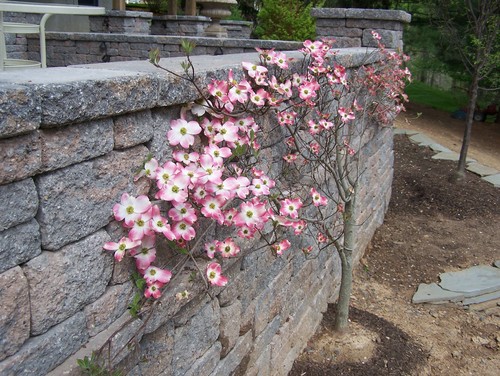 Photo by Cedar Run Landscapes
A traditional espalier has a main trunk and then branches that reach out at evenly spaced intervals, but there are many variations. You can choose an informal look (basically, by pruning any old way) or increasingly elaborate designs such as a simple "U," a fan, a candelabra, or the Belgian fence, in which V shapes are woven together to achieve a lattice.
To map out the pattern you want, first put the design on paper and then transfer it to your wall or fence with nails or hooks to support the branches or vines.
How to pick the best plant for an espalier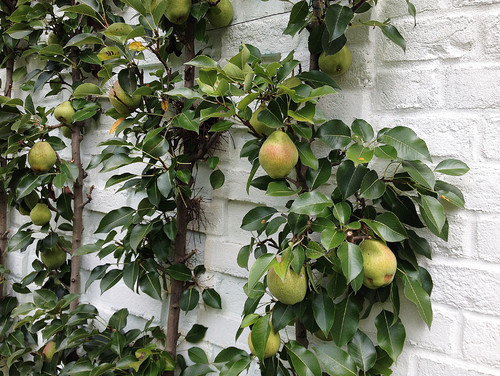 Photo by River Road Farms
We're not gonna lie, coaxing an espalier is labor-intensive—but you can save some time by shopping at nurseries.
"Since this garden element isn't easy to create, my recommendation is to find one that's been trained to be an espalier while still maturing at the garden center," says Emma Lam, owner and lead designer at A Small Green Space.
How to build an espalier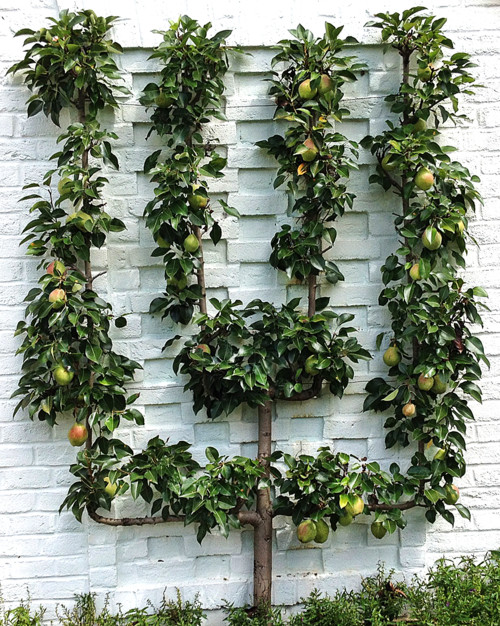 Photo by River Road Farms 
Once you've selected your fruit tree or flowering shrub and you have a pattern to try and an empty wall or fence for it, the next step is to string strong wire (14- or 16-gauge should work) up the wall, secured at each end with strong nails. Plant your tree into the ground about 12 inches from the edge of the wall or in a container that will hold the tree when it's fully grown. Attach existing branches to the wires with twist ties, fabric pieces, or plastic clips.
How to prune an espalier
Lambton recommends pruning in early spring to train the plant's new growth to bend the way you'd like. A good rule of thumb is to remove all but two new shoots on each branch and attach the remaining ones to your wires. Clip off side growth from the trunk until it reaches the next wire or section of your pattern and then allow side shoots to emerge.
"Cutting back new growth for the first year or two will also improve fruit formation as well as the look of your espalier," says Brandt.
The post What Is an Espalier? How To Grow a 'Living Fence' in Your Yard appeared first on Real Estate News & Insights | realtor.com®.