A private backyard will always be a desirable home amenity, but the coronavirus pandemic has shown that the front yard deserves just as much attention. With the pandemic limiting our ability to see friends and family inside the home, the front yard has become the hub for safely socializing with our loved ones. From drive-by celebrations to socially distanced cocktail parties on the porch, the front yard is stealing the show as the new entertaining space—and it's a change that's likely here to stay.
"Homeowners now view their front yard as an additional gathering and entertaining space, and are adding decor upgrades to help them stand out in the neighborhood," says Mark Feldman, chief home officer and general manager at Riverbend Home.
"A few simple changes can convert the front yard into a great social space to hang out with family and neighbors, or a quiet area to unwind," says Feldman. "Plus, the added curb appeal is a huge plus for potential home buyers."
Is your front yard overlooked? Well, party in the back no more! Here's how to make it over into a space you'll want to spend hours in.
Make your porch a welcoming place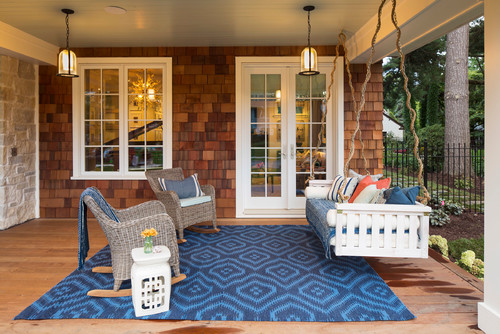 Photo by Laura Engen Interior Design
The porch is the first thing people see when they walk up to your home, so make it an extension of the indoors.
"Create an inviting space by adding comfortable chairs, benches or a porch swing, and a small table (Riverbendhome.com, $148.00) to create a chat area," says Feldman.
An outdoor area rug (Ikea, $40) can make the space feel cozier and add a pop of color.
"Lastly, a ceiling fan can help keep the porch cool and deter mosquitoes and other flying insects. Your morning croissant will thank you," says Feldman.
Consider the Honeywell Belmar outdoor LED ceiling fan (Amazon.com, $131.26).
For something a bit more simple, Brent Gentling, host of the streaming show "Bring Your Own Tools," suggests creating a hanging Mason jar planter, using his tutorial.
"Plus, you can use fake succulents to add style and never have to worry about watering them," says Gentling.
Build a front deck or patio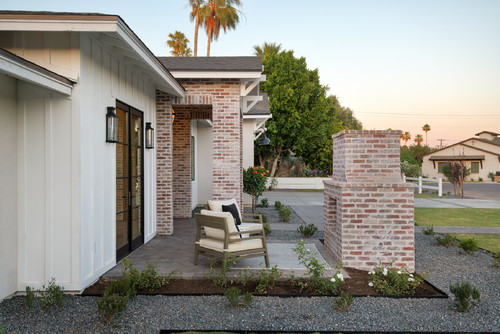 Photo by Two Hawks Design and Development
Decks and patios aren't solely reserved for the backyard. If you have the space, our experts recommend putting a designated chill zone in your front yard so you can lounge, eat, or garden there, too.
"The one thing to think about with a front deck or patio is where you get the most sunlight throughout the day," says Gentling. "If you enjoy soaking up some rays, you may be very surprised by how much more sunshine can be enjoyed with a front deck or porch area."
Define the space with edging material, planters (Riverbendhome.com, $110.99), or flowers.
Feldman says another option is to "incorporate brick or flagstone pathways or gravel areas as natural spaces that invite people to move about and mingle."
Create a private, quiet front yard space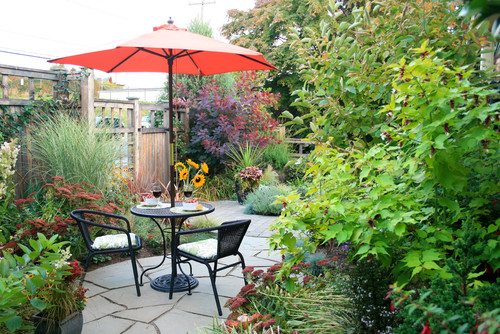 Photo by Banyon Tree Design Studio
While the front yard should be friendly and open, a little privacy can go a long way in making the space a more inviting place to sit and chat with friends. 
"You can do this by screening in your porch or creating a little garden spot to conceal some parts of the yard," says Feldman. "This can be accomplished by adding some fencing, a pergola or gazebo (Riverbendhome.com, $450), trellises with flowering vines, or by planting taller varieties of trees that block the world from view."
Make this spot into a relaxing oasis by including a water fountain and chairs (Amazon.com, $149.95). Stay warm into the night by adding a fire pit (Amazon.com, $200) or a patio heater (Costco, $200).
Add some curb appeal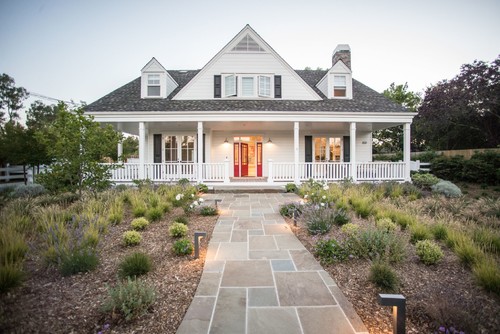 Photo by Rollin Landscape Design
You know your house is hot when it gets attention from neighbors and passers-by. And maintaining—or even increasing—that great curb appeal is simple with just a few additions.
"My favorite curb appeal tip that any DIYer can take on is painting," says Gentling. "I recently transformed my old, sad front steps into something that truly stands out: white steps with a painted mosaic pattern."
Feldman recommends starting at the end of the driveway with your mailbox. If it's looking a little worse for wear, repair or replace it.
Consider adding a new house number sign (Etsy, $29.99 and up) made out of reclaimed wood for a rustic-modern touch.
And one of the most important elements of a front yard? Lighting.
"As night falls, it's important that the driveway, front porch, garage, and walkway to your home have enough light," says Feldman.
Try adding new sconces (Riverbedhome.com, $510) by the front door and lights along the pathway (Homedepot.com, $5.88) leading to your front door. Landscape lighting (Lampsplus.com, $374) will highlight flowers in bloom and create an oasis feel.
The post The Front Yard Is the New Backyard: How To Prepare Your Space for Warm Weather appeared first on Real Estate News & Insights | realtor.com®.